When it comes to saving on footwear, we've got a few tricks up our sleeves. Our biggest tip? Never let confusion about sizing get in the way of epic finds.
From European shoe sizes to youth sizes, figuring out the right shoe size conversion for your adult US shoe size will help you hunt down tons more styles that fit your feet. You're likely familiar with using a
shoe size chart
or website conversions to find your European size, but have you ever figured out the youth equivalent of women's shoe sizes? That's where our
youth-to-women's shoe size chart
comes in handy.
This how-to guide will simplify the youth shoe size conversion with accessible shoe size charts and an easy shoe size conversion equation. So buckle up, because you're about to start shopping
in the kids
'
department
.
Why buy kids' shoes for adults?
Figuring out the youth (or "big kids") shoe size conversion for your adult women's US size unlocks a whole new world of savings. Not only are
kids' shoes
often less expensive than adult shoes, but sometimes sought-after brands or styles that are sold out in adult sizes are still available in kids' sizing. And who knows, you might even find you like certain kids' designs better than adult's.
How to convert women's shoe sizes to youth
If you normally wear women's shoes and are trying to figure out what youth size would fit you best, the simple youth size to women's shoes conversion:
your US size minus 2 =
your youth size
. So if you typically wear a US women's size 8, a big kids' size 6 would likely fit pretty well. See? Math isn't so bad after all.
One note: When you look at our shoe size charts, you'll see that sizing for women and big kids isn't exactly the same. If your feet tend to run on the upper or lower edge of your size (like if a size 8 is sometimes too small or an 8.5 is sometimes too large), use the chart below, which offers a more detailed range for women-to-youth equivalents. According to the chart, if you fluctuate between a women's size 6, and a women's size 6.5, big kids' size 4.5 will likely be a perfect fit, because it's right between the two. If you tend to stick to one shoe size that almost always works for you, try the larger number in the big kids' size equivalent first.

Once you figure out the youth equivalent of your women's shoe size, you'll open a whole new world of shoe-shopping possibilities. So hurry, and take advantage of your new trick before your shopping competition learns how to convert women's shoes to kids' sizes!
Ready to start shopping? Check out our vast selection of
women's shoes
and
kids' shoes
.
Helpful shoe size charts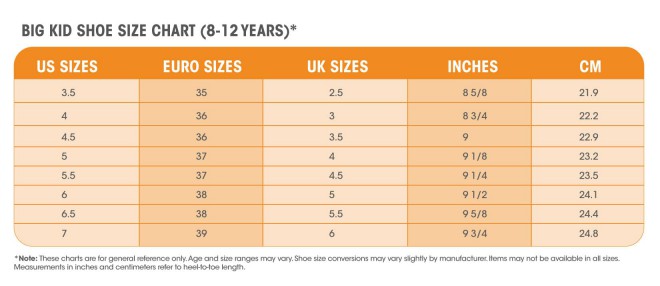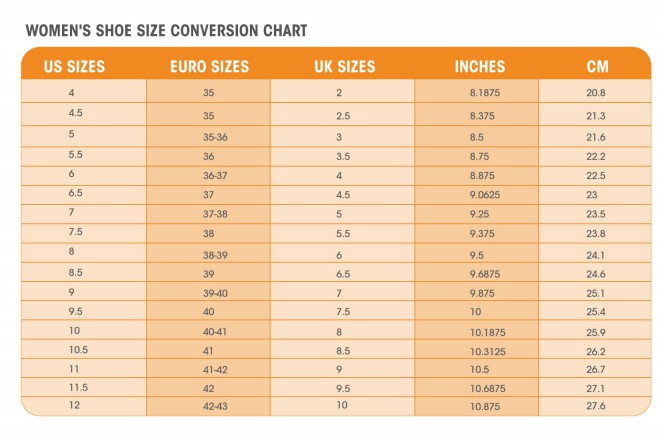 Figuring out the right shoe size and shoe size conversion is easy using the shoe size charts found in our
shoe sizing guide
. There you can also find a step-by-step guide on measuring your feet for the proper shoe fit.