Deciding between a
soft shell jacket
and a
hard shell jacket
can be tricky if you're not sure exactly what you're looking for. They both offer a variety of benefits, from comfort to protection, so, which should you choose? Making the right decision is easy when you understand the difference between
hard shell
jackets and
soft shell jackets
, plus what kind of adventures they're each designed for.
What's the difference between a hard shell jacket and a soft shell jacket?
What's a hard shell jacket?
A hard shell jacket is a waterproof jacket with a hood. Sometimes insulated, they're designed to provide lightweight, durable, and waterproof breathable protection in rain or snow. The term hard shell fits, because the fabric isn't very stretchy, has a slightly crinkly feel and sound, and is very durable. When you compare a hard shell to a soft shell, you can tell the difference by feeling the fabric and listening for a swooshing and crinkling sound - a hard shell jacket typically makes way more noise than a soft shell jacket.
What are hard shell jackets used for?
Hard shell jackets are used for protection from rain or snow. They are must-haves for hiking, camping, backpacking, powder days, or any other activity that might take place in rain or heavy snow. The best hard shell jackets (without insulation) are lighter and more packable than soft shell jackets, and are the better choice when weight and space are an issue.
What's a soft shell jacket?
A soft shell jacket is a water-resistant, stretchy, breathable shell that offers protection from light snow and rain. Some soft shells feature waterproof breathable technology, but most are just water repellent. They are designed to move with you and maintain a comfortable body temperature during high-energy activities. Most soft shell jackets feature a soft lining or fleece lining that offers added warmth.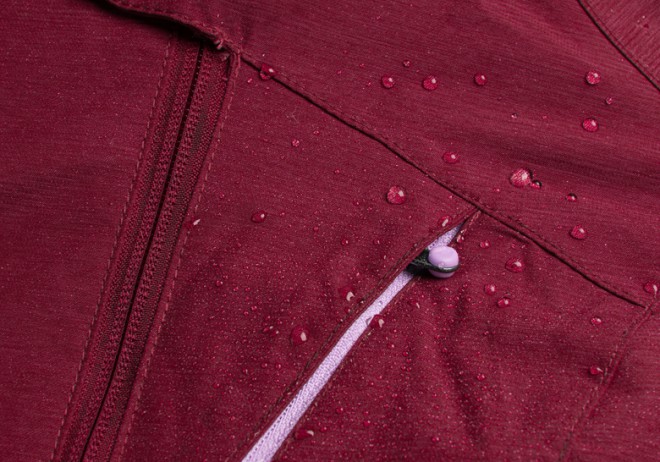 What are soft shell jackets used for?
Soft shell jackets are used for stretchiness, warmth, and breathability during active outdoor adventures. They can be used as an insulating mid layer when you're
layering for skiing
or
dressing for cold, snowy weather
, and they're a great choice for everyday wear in cool weather. Soft shell jackets are versatile, but often aren't as lightweight, packable or waterproof as hard shell jackets.
If you want to learn more about waterproof vs. water-resistant jackets before moving on, check out
this blog
.
Should I wear a soft shell or hard shell?
If you're going for a day
hike
and there's a chance of rain, wear or pack a hard shell. If you're going for a multi-day backpacking or
camping
trip, always pack a hard shell. A hard shell provides the waterproof protection and durability you need for backpacking trips and rainy weather. Hard shells are also lighter and more packable than soft shells, so are a must-have for backpackers.
Wear a soft shell if you're going
hiking
,
rock climbing
,
biking
,
running
, or just lounging around in cool, dry weather. A
softshell jacket
for skiing is great on a dry day. You can also grab a softshell to layer underneath
hard shell
rain jacket for warmth. Keep in mind that most soft shells offer reliable water resistance, so if it rains or snows a bit while you're out, you should stay mostly dry. If you're planning to spend a lot of time outside in winter weather, you might want to do some additional investigating on
synthetic vs. down jackets
.
Think you have the difference of soft shell vs. hard shell jackets figured out? Check out our vast selection of jackets for men and women.